Summer has officially started, and some people have already started their trips to their favorite dream destinations, while some are in the process of planning their own vacation. But one thing is common for every avid traveler, no one wants to have their relaxing experience ruined by the lack of convenient accessories. Yes, I am talking about our very own tools and travel gadgets. Let us look at the latest top 5 life-savers that are bound to make your journey easier, safer and more enjoyable.
Note: These are chosen taking various average user reviews into account from Amazon's website.
Kindle Paperwhite
One of Amazon's most loved inventions, Kindle Paperwhite is built solely for reading and it creates a sanctuary so you can lose yourself in a book. It contains Bookerly, a font which is crafted for reading on digital screens. You don't have to worry about it being difficult to carry as it is lighter than a paperback and you can read it comfortably on one hand.
It has a 6″ high resolution 300 ppi display with twice as many pixels as the previous generation. Also, with a 4GB storage capacity, six weeks single charge battery life and wifi connectivity, it is bound to be an amazing companion on your trip. Like one user said on Amazon, "It is so easy to use, it is super light, and makes a book worm like me able to read with no effort at all!", it has gotten an approval from many more book worms.
2. Microsoft Universal Mobile Keyboard
This foldable keyboard is the perfect travel companion – its ultra thin(only 5mm), lightweight, compact design lets you take it anywhere you go so you can get more done on your tablet or smartphone wherever you are. It is designed to work with iPad, iPhone, Android, Windows tablets and Windows phone, and its water repellent keyset helps protect against spills and accidents.
Its latest Bluetooth 4.0 technology, easy on/off system and rechargeable battery makes this item even more able to turn your tablet or phone into a remote office.
3. Canon Powershot G9x Mark II Camera
The slim brilliance and high detail of this camera even in low light makes it a great company for wherever you go, whether it be day or night, cloudy or bright. It features a 20.2 megapixel, 1.0 inch high sensitivity CMOS sensor which guarantees impressive image quality and stunning videos.
The built in Wi-Fi makes sharing quick and easy, while the fast capture technology (upto 6.0fps) will help you capture and save a memory forever, a moment that may not pause for your camera otherwise.
4. BOSE Quiet Comfort 35s Headphones
Bose is known for its world-class noise cancelling technology headphones, and these Quiet Comfort headphones certainly do not disappoint when it comes to that. Whether you are in the wilderness or in a bustling city area, these headphones will help make quiet sound quieter and your music sound better. Plus, the quality build and superior comfort is even boosted by the wireless ease and freedom from the wires.
To put the user experience into perspective, let us see the review of one user that pretty much encompasses these headphones' experience : "The soundstage is the thing that keeps wowing me. The seperation and placement of instruments is really good. The comfort is supreme and the Bluetooth paired very easily to my iPhone 6 plus. The QC35 arrived with 70% power out of the box. After almost an hour, they are still at 68%."
5. Anker PowerCore 20100 Power Bank
With a huge 7-day charge capacity, it isn't very surprising to see why over 10 million customers are charged by this leading technology brand's portable high capacity power bank. If we see its pocket-friendly size and dual-device enormous 4.8A output, it will make you wonder why you ever wasted time buying different wire chargers and plugging in to the wall.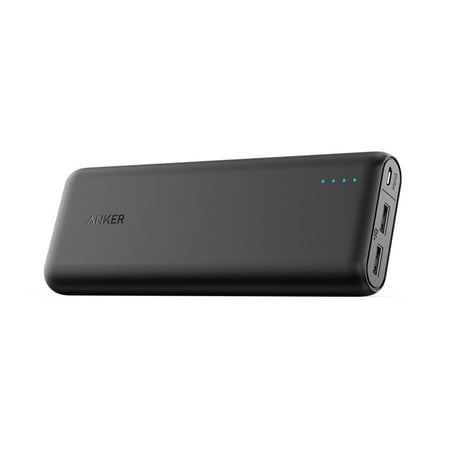 Here is a part of a review from a Frequent Flyer Business Traveler, which summarizes on the effect this product had on his experience: "Long story short, it took me full 2 days and almost 7-8 device recharges to drain it down to less than 25%. This unit has massive battery capacity. Since then I have ran multiple tests on this unit and it has NOT failed once to impress me."
So, what do you think about these products and their role on making your getaway truly secure and pleasant?